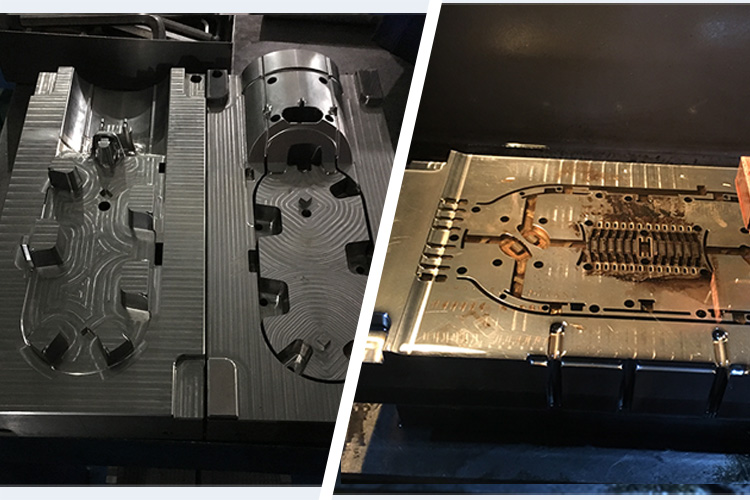 Export Country:
India
Completion Time:
1 Month
Tag: Injection Mould

Mould Base: DME
Mould Material: S136 Heat treated
Part Material: ABS
There are many angle lifters applied for the mould and space for some of the lifters were very tight. But the customer has to get the features as required.
Have the mechanism changed for these features.
Product Application Field
Industrial communication cable tray
The position of the winding reel in the middle of the product has a thin wall thickness and is very dense. EDM processing is very complex, and the mold is very easy to break. There are many defective products and serious material shortage in injection molding. For the wall thickness problem, first, we replaced the product material and used PC + ABS material, which increases the willfulness of the product and is not easy to break; Second mold core material is treated with S136 heat treatment to increase the life of strength die. Second, we make the middle part into replacement inserts, which can not only solve the problems of mold damage and repair caused by improper injection molding operation, but also solve the problem of gas trapping and material shortage of products.
Mold Analysis, CNC Rough Machining, Heat Treating, Finishing Machining, Wire Cutting, EDM, Polishing, Texture.
Maximum die size: 1100*1000*800mm
Export Area: EU
Delivery time: 45 days
Part Quantity: 5 pcs
Mold Quantity: 4 sets
Number of Processed Sliders: 6 pcs
Mold Material: 718H, NAK80, P20, 718, 45#, etc.
Part Material: PC+ABS
Project Leader: Ken Yeo
PC+ABS, Air Trap, Shrinkage, Distortion