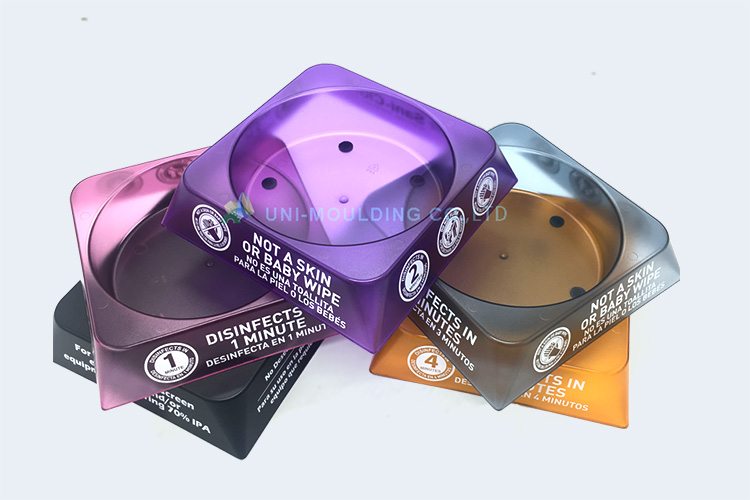 Export Country:
America
Completion Time:
1 Month
Tag: Dispenser Tray

This is a products used in the hospital for holding the waste of the wipers. From the mold to production and assembly all one in-house shop.
As the part is to be transparent with colors and many processes for final product. Assembly for the feet,silk printing.  The most important thing is to control the transparency without black dots.
Have it run in our clean injection molding shop. That's our advantage.
Product Application Field
Mainly for pets to put food and drinks.
The product is in direct contact with pets. The customer requires that the materials need to be NSF certified, and the appearance is beautiful and translucent. Finally, we chose MS materials.
Plastic injection moulding: MS material properties are relatively unstable. In addition to the product structure and customer requirements for product appearance, we adjust and increase the cooling system temperature to control the product appearance, and use hot runner technology to improve the beauty of gate position.
Silk screen printing advantage:
(1) It is not limited by the size and shape of the substrate
Generally, printing can only be carried out on the plane, and screen printing can not only print on the plane, but also print on shaped objects with special shapes, such as spherical surfaces. Anything with shapes can be carried out by screen printing.
(2) The layout is soft and the printing pressure is small
The screen is soft and elastic.
(3) Strong ink layer coverage
It can be printed in pure white on all black paper with strong three-dimensional feeling.
(4) Suitable for various types of inks
(5) Strong optical rotation resistance
It can keep the luster of printed matter unchanged. (temperature and sunlight have no effect). This makes it possible to print some self-adhesive without additional lamination and other processes.
(6) Printing methods are flexible and diverse
(7) Plate making is convenient, the price is cheap and the technology is easy to master
(8) Strong adhesion
(9) It can be pure manual silk screen printing or machine printing
(10) Suitable for long-term display and expressive advertising outdoors
Mold Analysis, CNC Rough Machining, Heat Treating, Finishing Machining, Wire Cutting, EDM, Polishing, Texture.
Maximum die size: 400*400*300mm
Export Area: USA
Delivery time: 30 days
Part Quantity: 1 pcs
Mold Quantity: 1 sets
Number of Processed Sliders: 0 pcs
Mold Material: 718H, NAK80, P20, 718, 45#, etc.
Part Material: MS
Project Leader: Zach Zhao